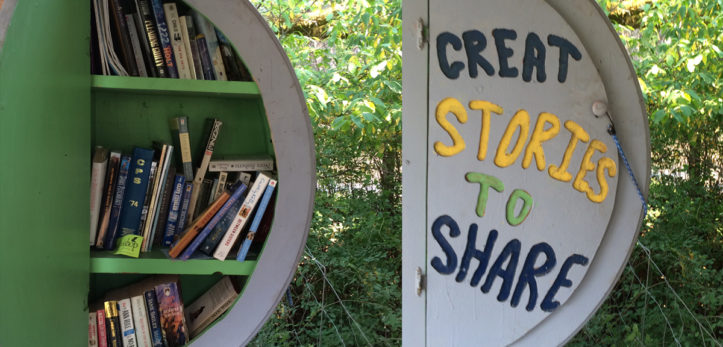 150 Free Libraries in the Capital Region
Little libraries to help celebrate Canada 150
For the past few years the Greater Victoria Placemaking Network (GVPN) has been mapping little free libraries in the CRD and Saanich Peninsula. These efforts have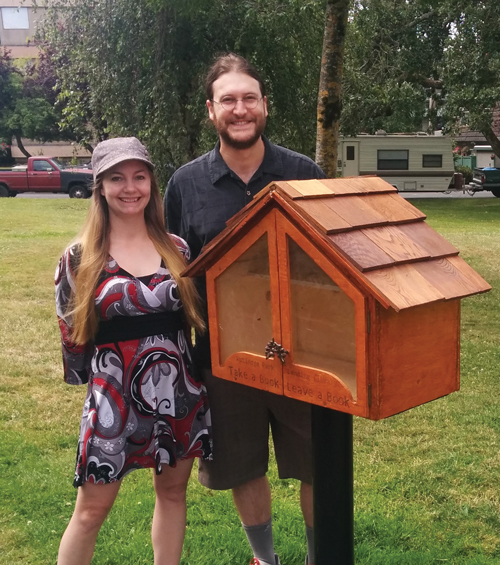 identified over 130 of the book boxes operating on the 'take a book – leave a book' principle. The organization is now seeking to encourage the construction of additional little free libraries to raise this number to 150 as a way of celebrating Canada's 150th birthday.
These little boxes help foster communities and are a delight to maintain
The GVPN is a local non-profit that seeks to promote the concept of 'placemaking' and transform public spaces in the region. Placemaking is the collaborative process by which public spaces are transformed to make them more vibrant and engaging to the public, to maximize their shared value. Examples of placemaking include the installation of public benches, community growing spaces, and little free libraries.
The book exchanges make excellent placemaking elements in any community. "Our library has quickly become a convergence point for community," says Dr. Teale Phelps Bondaroff, a GVPN volunteer who, along with his partner Stephanie Ferguson, operates the Rutledge Park Little Free Library in Saanich (@RutledgeParkLFL on Twitter). "This little box of books not only provides our community with books, thereby promoting literacy, reading and education, but it also serves to bring people together, to stimulate conversation, foster relationships and ultimately to make our local park a more community-oriented space. In a sense, the little free library acts like a coral reef for community, bringing people together and providing them with a ready-made topic
around which to bond," says Phelps Bondaroff.
Last summer, GVPN volunteers Ferguson and Phelps Bondaroff revived the GVPN effort to map little free
libraries across the Capital Region. Through a combination of digital crowd-sourcing and exploring the city by bike, the pair identified over 110 little libraries in the region. Ferguson and Phelps Bondaroff received a Victoria Community Leadership Award this past spring for their efforts.
Since that tme, an additional 20 libraries have been identified or newly installed. Ferguson, Phelps Bondaroff and the GVPN encourage members of the public to visit the GVPN website to view the Little Free Library Map, and to complete an online form if they identify a little free library that is missing from the map.
The GVPN has moved onto the second phase of their little free library project by encouraging members of the public to build their own little free library.
"Those who explore our map will notice there are some serious gaps, and countless streets and communities currently not benefiting from little free libraries" says Phelps Bondaroff. "So we are encouraging people to set up their own little free libraries in their communities; on posts in front of their homes, affixed to fences, in parks, schools and community centers – anywhere that needs to be transformed from a spot, to a place."
The GVPN recently secured a generous donation of 13 used newspaper boxes from the Times Colonist newspaper and helped distribute these boxes to be repurposed as little free libraries. The first of this cohort of boxes was recently unveiled on Alder Street in Saanich. GVPN volunteers have also built plywood boxes for others to install. The GVPN is currently offering technical support and advice to those who are interested in building their own little free libraries, and is encouraging people who would like a newspaper box to get their names on the GVPN waiting list.
"We are so excited to help people install their own little free libraries. These little boxes help foster communities and are a delight to maintain," said Phelps Bondaroff. "There's no such thing as too many little free libraries."
Find out more at Greater Victoria Placemaking Network.