Oakes Speaks of her Blue-Sky Vision of Amalgamating the Capital Region
by Michele Murphy
Photos: feature image: "Victoria, British Columbia Skyline at Twilight" by Brandon Godfrey, others – Facebook
BC Community, Sport and Cultural Development Minister Coralee Oakes met this week with some of the councils from around the Capital Region, after having invited all to separate 30-minute meetings. Many of the Capital Region's mayors and councillors emerged hopeful of seeing a robust and unbiased investigation into local governance.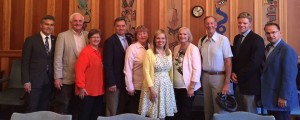 Saanich mayor and council's meeting was held on Thursday, July 15. After the meeting, Councillor Fred Haynes commented, "An important observation I had was that the word 'amalgamation' did not appear in any process the minister described, or in the outcomes. Instead the emphasis was on the need for very good data, a very good and transparent process of public education such that the data can be understood, and that this leads to the opportunity for the people of the region to eventually have their say through a referendum."
Saanich Councillor Colin Plant repeated comments made by the minister including her saying that "there is no pre-determined outcome," and that "improved governance, and not amalgamation, is the goal." Plant felt that, "People's concerns were allayed by the Minister's comments."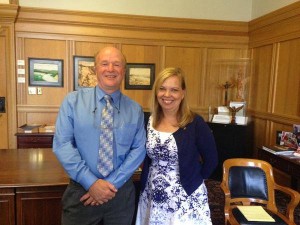 View Royal's outspoken Mayor David Screech said, "The minister is interested in discussing governance issues in general as opposed to doing an amalgamation study."
If an open, honest investigation into local governance in the Capital Region is what you're looking for, this all sounds hopeful. But a recording of a private March 10, 2015 breakfast meeting where Minister Oakes spoke to a gathering organized by the BC Liberal Victoria-Swan Lake Riding Association tells a different story.
A link to a recording of the meeting is found on the Amalgamation Yes website.  The recording has Oakes addressing the amalgamation-friendly crowd candidly and openly, making references to her long-time dream of amalgamating Victoria.
Oakes opened the presentation recalling a "blue-sky" Liberal caucus event where the premier [Clark] asks her caucus to put on the table something that they really, really want to do. Oakes picks the amalgamation of Victoria as her "blue-sky" vision, saying that she thinks that it's time. She says that she spent 14 years working with the BC Chamber of Commerce. She explained that the Chamber has a key policy around the amalgamation of Victoria communities.
Oakes, a self-proclaimed process-person, lays out the path ahead. Directly after what she refers to as a successful referendum result, she says,  "The first step is that local governments have to ask us to do a governance study." And for the municipalities that won't come forward Oakes says that the Province can, "do supportive work, reminding the local governments what the citizens have asked for." Oakes cautions that, "amalgamation is going to be a long process, and we might need to look at phased-in approach."
A member of the audience suggests that it would be wise to call the mayors together for a conversation. In response Oakes says that she "runs into this little challenge around respecting local government's autonomy. That's the one challenge that I always have, because if we didn't have that one little piece, man what I could do."
Oakes suggests that no one wants to be left out of conversations. If they can get two or three local mayors, the other communities will follow. "What I am saying is I have a letter from the city of Victoria saying they want to have a meeting with the minister. We are going to send that letter out, which is going to drive the conversation, " says Oakes, adding, "I guarantee you, if I say that I'm going to sit down with Victoria to talk about this, other people are going to want to come and be part of that conversation."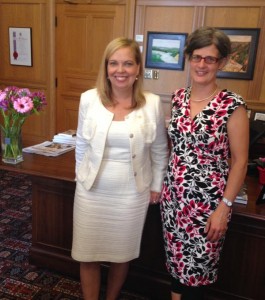 Oakes went on to say that she wants to look at what type of grassroots processes they use, citing pros and cons on the size of the grassroots movement. Is it a citizen-lead conversation, and if it is, the conversation would then need to invite the Province into the conversation.
The minister assures the audience that resources are available. The money has been put aside for the governance study.
So why the disconnect? Why is Oakes now speaking of improved governance, and not amalgamation? Could it be that Oakes has changed her blue-sky vision? Or is it something else?
The probable answer to the language softening is found just 18 minutes into her presentation to the breakfast group when Oakes says, "As we come forward I think you're going to see us use different language. You're going to see us use language like restructuring. You're going to see shared services. I didn't want to come into the room and have that language and then you think that I'm trying to steer us away from what was on the ballot."
Victoria's Mayor Lisa Helps, met with the minister on July 14th, but has been rather reluctant to use any language at all around the meeting. Helps met with Oakes in private, without her council, and except for a re-tweet of Oakes' Twitter comment, "Great meeting with @lisahelps. Lots of optimism and ideas!," Mayor Helps has yet to respond to SVO's request for comment.
While Oakes may have changed the language, it seems that Premier Clark didn't get the memo. In the Premier's June 12 annual mandate letter to Oakes she stated that the minister was to, "Develop and present options to Cabinet on potential processes under which local governments could either amalgamate or integrate service delivery by June 30, 2016."
Mayors and Councillors from Central Saanich, North Saanich, and Sidney met separately with Community Minister Coralee Oakes on Tuesday, July 14, but have yet to provide comment for SVO.
One thing Oakes has said that all can agree on, democracy is difficult.
-30-
For more info:
Coralee Oakes, Minister of Community, Sport & Cultural Development on Amalgamation at March 10, 2015 or on DropBox
Coralee Oakes Annual Mandate Letter, June 12, 2015
More stories on amalgamation and governance on SVO – HERE.