SVO Arts Scene – Caleb Speller – on collage
by Judy Barlow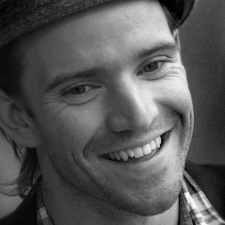 Every artist has his or her own creative process. Rising star Caleb Speller's is a little different from others – in that he's never quite sure what the day will bring.
"What I try to do with my artwork," says Caleb, "is explore different themes. I don't think in the morning, 'I'm going to spend some time with a piece of paper and just draw.' I'll ask myself what materials will best describe the theme for the viewer. It usually comes to me while I'm working on it."
It takes a lot of trust in the process to throw an idea up in the air and see if it flies. Caleb's confidence comes from an unshakeable belief that his creativity is a gift from God.
"I'm looking at life as a gift and I'm looking at the skills God has given me and I'm wondering every day, 'What can I do with these skills that I haven't done yet?' I want to understand why God has given me this gift." 
A collage artist makes use of old magazines, catalogues and books; maybe even garbage off the street and repurposes the material. Sometimes it's meant to trigger a dialogue; other times it's meant to give a totally different representation of what something used to be. In our affluent society, Caleb notes. "There are so many free resources at our fingertips that you can be creative on a dime. You don't need to go to the art store and pay for an expensive piece of French paper. It's so basic and free from the financial aspect of creativity." 
Caleb's hugely successful collage project, Public Domain, was extracted entirely from renowned Canadian photographer Yousef Karsh's portraits of famous people. "The paper quality is perfect for a collage artist to borrow from on a material level, even without the visuals. I extracted from his portraits and the achievements that those people were known for, and repurposed them to a new history within 15 collages. So if you wanted to research this project you can find every little piece of the new collages in those portfolios."
"When something dies [its] energy goes into something else. When someone's done with something, even a simple magazine, we say it's going in the trash or the recycling. It just means that it's going away from us; it's not going away. Collage has that dialogue embedded within it – you're taking back something that was moved away from someone else  and  bringing it back into focus."
Caleb enjoys breathing new life into society's detritus. "I think art always has that quality – we're always turning something into something else."
Caleb's work has received both national and international attention. Look for new ceramic designs in Wishlist 6, the group exhibition opening December 4th at Polychrome Fine Art. His wildly popular Food Stamps exhibit was showcased at both Lady Marmalade Café's Victoria location and their Toronto one in October.
An upcoming collaboration with Shawn Grocott from Shawn and the Wolf, a jazz duo, finds the pair developing a German exhibit in 2015.
Caleb's very limited book, Artwork by Caleb Speller is available online. Or you can purchase one of his unique refurbished bicycles, accompanied by a custom-designed Caleb Speller tag. And he's collaborating with the locally based Toy and Ming on a limited clothing line of wearable art fashioned from custom-printed fabric full of Caleb Speller's drawings.
So what is it that drives this young man to get up and create something new every day?
"As artists we want people to come and see our artwork …" says Caleb. "We want to be able to have at least enough of a description of what it is and why it is – it's more than just a piece of art – it's a conversation attached with it. There's a deeper aspect of my creativity that I'm aware of, but I can't fully describe yet. But I know it's a gift – every moment is. It's something I don't want to take for granted. If you have knowledge or a skill and you keep it to yourself you're being selfish – it's not going to grow and it's not going to be of use to anybody."
Keep your eye on Caleb Speller. He's growing and going places – and not just geographically. Someday you'll say, "I knew him when…"
calebspeller.yolasite.com  |  polychromefinearts.co

Psych Test , Colour Sheet Number Five – 2014    By Caleb Speller, Collage on black paper, 76 X 57cms