In the past few weeks many organizations, media outlets and special interest groups have offered candidates the opportunity to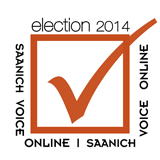 clarify where they currently stand on various issues.
Saanich Voice Online asked the candidates in Saanich, Central and North Saanich and Sidney to talk about what they would like to accomplish by certain dates.
Below are links to a few questionnaires that we hope may help you on deciding who will best serve as your community leaders this week. You'll also find a taping of one of the all-candidates forums that took place during the campaign – just in case you were not able to attend, or would like to review it.
If you know of others please send us an email or add it in the comments below.

Community Action Plan on Poverty
(may have been a passive questionnaire and not a direct ask)
Fair Vote Canada – Greater Victoria
Peninsula News Review Candidate Q&A
Times Colonist election coverage
(Please note: a candidate's failure to respond may have less to do with their lack of interest in the issue than the number of requests they have received, when and how the requests were sent out, or email miscommunication.)