Councillors Report-out at the Three-year Mark
Opening the Time Capsule
by Michele Murphy
During the 2014 municipal election campaigns, Saanich Voice Online (SVO) asked all candidates in Saanich, Central Saanich, North Saanich and Sidney to tell us, in 60 words or less, what they would like to have accomplished in their elected post by Nov 15, 2015, June 1, 2017, and October 1, 2018. We received responses from many, but not all, of the candidates. You can read that article HERE.
We opened the time capsule in November 2015 and asked the original respondents – those who were elected – to report back on their accomplishments to date. You can see those responses HERE. And now, once again, we're opening the capsule to see how they are doing three quarters of the way through their terms.
They were asked:
"What would you like to have accomplished in your elected post by June 1, 2017?"
Here's what some of them had to say …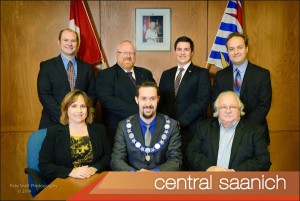 Alicia Cormier
Councillor, Central Saanich
Desired accomplishments completed by 2017
By June 2017, we are at a grand opening celebration of an affordable and accessible housing facility in Central Saanich. This being made possible by bringing together the talents and energies of local, regional, provincial and federal government, along with one or more non-profit or private agencies. The facility is serving the needs of a range of people.
Reporting back in 2017:

I'm pleased to report that progress is being made to provide affordable housing for low to moderate income earners in new housing developments in Central Saanich. Completion of an Affordable Housing Needs Assessment for the Peninsula in 2016 has been an instrumental part of our Council deliberations. The needs assessment contributed to the approval of 40 units forming part of the Verdier property development which broke ground in May 2017, and 10 temporary affordable housing units will be included in phase two of the Marigold project.
____
Christopher Graham
Councillor, Central Saanich
Desired accomplishments completed by 2017
Draft and implement a long-term financial plan, keeping reserves healthy and debts low. With 77% of property tax coming from residential properties, it's crucial that our long term budgeting and reserve funds are sustainable. Debt interest in 2015 is anticipated to be $371,565. As interest rates rise we may struggle to carry additional debt.
Reporting back in 2017:
We have improved long-term financial sustainability, by bringing in a new Development Cost Charge bylaw that better reflects future infrastructure cost recovery, and a modest budget that accounts for long term capital asset replacement. We are moving ahead with planning for Keating revitalization.
I have supported redevelopment within our urban cores that will keep our community vibrant and desirable.
____
Carl I. Jensen,
Councillor, Central Saanich
Desired accomplishments completed by 2017

I would like to continue as the Chamber of Commerce Liaison and also be a member of the Central Saanich Economic Advisory Committee working with the Central Saanich business community to identify an Action Plan of priorities to present to Council for funding and support based on the needs of the businesses.
Reporting back in 2017:
Council has approved a development in Brentwood Bay that will bring true Affordable Housing to our community.
We've launched an easier-to-navigate website for Central Saanich as well as a Twitter account.
I have initiated the return of quarterly Town Halls to offer residents a chance to have an informal, open conversation with Council.  See the newsletter, new website and Twitter for more info.
____
Niall Paltiel
Councillor, Central Saanich
Desired accomplishments completed by 2017
I would like to be appointed to the planning and development committee, agricultural committee, and liaison to the Peninsula Chamber of Commerce. I will provide a new voice with a focus on planning for the improvement of agricultural, business and neighbourhood sustainability. I will do this by listening to our farmers, our small business owners, and the people of Central Saanich.
Reporting back in 2017:
I have the honour of serving our council as Chair of the Parks and Recreation Committee and as a commissioner for the Peninsula Recreation Commission (Panorama Recreation). In addition to these boards, I serve as a liaison to the Peninsula Chamber and the Saanich School District. My focus is to support local farmers and businesses, provide attainable housing, and focus on finding accessible ways to promote active lifestyles for residents of all ages.
____
Bob Thompson
Councillor, Central Saanich
Desired accomplishments completed by 2017
In order to encourage citizen participation in local government, Central Saanich has significantly upgraded its website to be more visually appealing and user/citizen friendly and is actively engaged on relevant social media platforms. By now (and hopefully a lot sooner), on-line public hearing packages include all relevant background information – no more searching through the archives.
Reporting back in 2017:
We have a shiny new website and accompanying twitter account which will hopefully enhance public engagement (we're still thinking about
Facebook). .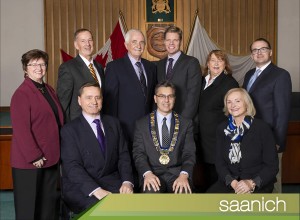 Susan Brice
Councillor, Saanich
Desired accomplishments completed by 2017
As Chair of the Victoria Regional Transit Commission I will be working with the members of the Commission to direct our increased revenue from two-cents a litre on gas tax to improve the transit system and provide an even more viable
option for residents to choose over the automobile.
Reporting back in 2017:
As chair of the regional transit commission I continue to work for a better transit system. This past year we have achieved bus priority lanes, and we secured provincial funding to instigate a significant expansion program in the fall. I am also chair of the transportation committee at the CRD and I have lobbied all municipalities to make transportation a regional service so that we can have an efficient and integrated network using multimodal transportation in the region. I will continue to work toward this goal.
At Saanich council I proposed and got support to include Farm Worker Housing included in our Agriculture and Food Security Plan. 

____
Fred Haynes
Councillor, Saanich
Desired accomplishments completed by 2017
Implement task force recommendations.
Review progress on Local Area Plans for density that supports public transit routes.
Be working in committee(s) on use of kitchen scraps to amend farmland and relocation of Saanich Works yard on McKenzie.
Modernize management of student housing.
Accelerate work on sidewalks and bike safety.  Seek cooperation at CRD to harmonize regional building codes and practices.
Reporting back in 2017:

In this year's budget I worked with council to include additional Planning Department staff to work on updating  LAP's. These 30 months of council, I am  pleased to have brought forward reports to increase student housing, enable detached secondary suites, harmonize regional building codes (in Saanich, CRD and (UBCM)  and to support our progress on sidewalks and bike safety, including the Shelbourne Valley Action Plan.
____
Dean Murdock
Councillor, Saanich
Desired accomplishments completed by 2017
Saanich Council has approved a 10-year plan for priority sidewalk construction. Annual budgets for sidewalk development are approved based on the priorities that have been established in consultation with community.
Reporting back in 2017:

#MovingSaanichFWD, Saanich's Active Transportation Planning process, got underway in the Fall of 2016. I am delighted with the extremely successful engagement of residents on pedestrian and cycling priorities. When it's wrapped up, the Active Transportation Plan will set out walking and biking infrastructure priorities with a core budget to support new sidewalks, bike lanes and trail improvements for the next 30 years.
____
Colin Plant
Councillor, Saanich
Desired accomplishments completed by 2017
Having worked with the Peninsula Agricultural Commission, Healthy Saanich Advisory Committee and local farmers, Saanich has a public farmers market that allows for local food to be grown and sold and for communities to come together and celebrate local agriculture and healthy lifestyles.
Reporting back in 2017:

I am pleased to report the Saanich Sunday Farmers' Market will launch this summer at the Braefoot Community Centre! Sundays in July and August will see farmers, craftspeople, food trucks and musicians creating a fantastic environment where residents can come together, buy local goods and celebrate our community.
Thanks to Marsha Henderson and Shawn Newby for making this happen.
_____
Leif Wergeland
Councillor, Saanich
Desired accomplishments completed by 2017
Focus on achieving goals in Saanich's Strategic Plan
Reporting back in 2017:

Has not responded to our request for an update as yet..

Heather Gartshore
Councillor, North Saanich
Desired accomplishments completed by 2017
Creating a vision and planning for future use of the former Sandown racetrack as productive agricultural land will be well underway.
Led by innovative community members committed to healthy locally produced food and preservation of farmland, Sandown will be the site of a permanent Farmers Market, and a source of pride for North Saanich
residents.
Reporting back in 2017:

The Vision Sandown report, completed in June 2016, articulates the dreams and ideas for future use of the site.
Having been referred to our Commissions and the Peninsula Agricultural Commission for comment, Council is awaiting a Staff Report outlining various options for consideration.
I'm hopeful that a permanent Farmers Market will be part of the final plan for the property.
 ____
Geoff Orr
Councillor, North Saanich
Desired accomplishments completed by 2017
Complete the review of the District bylaws and development permit areas with a view to achieving a reasonable balance of private and public interests. Establish a long-term taxation strategy. Implement some of the Marine Task Force, Agricultural Economic Development Strategy and Parks Master Plan recommendations. Adopt bylaws regarding secondary suites. Establish a public boat ramp at Pat Bay.
Reporting back in 2017:

Council has approved a number of District bylaw amendments but review of development permit areas has not started.
Secondary suite bylaw was adopted on February 16, 2016.
District and community efforts targeting a public boat ramp in North Saanich continue. Policy work related to housing, marine and agricultural recommendations is on 2017 work plan.
No change in taxation policy.
____
Celia Stock
Councillor, North Saanich
Desired accomplishments completed by 2017

I would like to see the Final Report of the review of portions of the OCP presented to Council in January, 2017, and North Saanich working with a new OCP by June 1, 2017; that an Affordable Housing Policy is in place; that area planning for the approved development areas is finished; that we have opened new trails, at least one new park, and improved our beach accesses; that Council maintains our continuous, open communication with all residents property.
2015 is the Jubilee celebration for North Saanich.  As a member of the Planning Committee, I would like to look back and say, we have had a wonderful, exciting Jubilee year with many memorable events for all residents; That I will have been able to mentor and assist new Council members with our work, so that Council can be more effective, and these members will have had an easier transition to Councillor.
Reporting back in 2017:

We have not amended our 2007 OCP or removed controversial amendments made by the last Council.
Council has approved the development of an affordable housing policy; to be presented this Fall.
There is disagreement on the need for by-law 1352, and its urban development direction.
Work is beginning on our new Jubilee Park and Downey Road Beach access is improved.
Council communications remain good. Find full update online.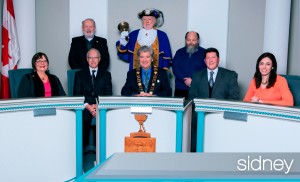 SVO did not receive any responses from elected Sidney councillors.
SVO will update this article as additional responses come in.