Bringing Italy to Prospect Lake
Stefano & Melissa Mosi return home to Saanich
by Michele Murphy
Mosi Bakery Café opened its doors to an eager line-up on a sunny morning in February and owners Stefano and Melissa Mosi couldn't  be more pleased. "We were busy all day," says an excited Melissa. "Everyone was really receptive, we were pleasantly surprised by the warm reception."
While the Mosis may have been surprised by the eagerness of their Prospect Lake neighbours, the young couple are hardly strangers to warm Saanich welcomes.
The Mosis are probably best known as the founders of La Collina , a popular Italian bakery, café and gelato outlet that they started in an unassuming building on Cedar Hill Road in 1997. La Collina had grown to three shops by the time the couple sold their share in 2005 and headed to Maui. There they opened the island's first gelato shop, Ono's. The Mosis have returned home now, and have just opened up another bakery in the old Prospect Lake General Store building at the corner of Spartan and West Saanich Rd. SVO caught up with Stefano on opening week to find out more about their new endeavour. Here's what he told us: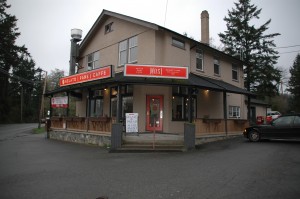 What made you decide to come home?
Our family all live in Victoria and while we were living in Maui we adopted a baby girl which made travelling  to see them very hard (Maui is a six-hour flight).  Once our daughter got her Canadian citizenship we sold our gelato shop and moved back to Victoria to be closer to them.  Also living in the States is a difficult transition from Canada in terms of health care and not being able to vote.  
Why now?
As soon as we moved home last May we started to search for our next business. We looked at lots of different areas but the West Saanich location came available in December and the owners of the 101-year-old building are family friends, Rick and Brenda Mitchelmore. It was good timing.
Why this location – and why do you expect to succeed in this location while others haven't been quite so fortunate?
It's true that past businesses have had trouble in this location, but we are providing a different service than those in the past. The West Saanich heritage building has been an integral part of the community at many different points in its history; from a post office, to Chinese corner store. It was always a meeting point for the community.  Twelve hundred cars pass by here daily on their way to and from work servicing the Peninsula. As well, the number of cyclists on the Interurban Rail Trail on the weekend is staggering.
Our business concept is an on-site bakery-café and gelateria. I have heard from countless residents that they are so glad that we have come to the area and want to help support our endeavour.  
What does Mosi's offer?
We have a full in-house bakery which includes artisan breads, baked goods like brioche, salted caramel cinnamon buns, ham & cheese croissants, and cannoli. We make our gelato freshly churned and offer 10 flavours daily that are displayed in an old-fashioned gelato case, like the one my grandfather used in Italy in the 1920s (of course he used ice back then instead of electricity.)
We have a breakfast menu with Eggs Benny Italian style, country breakfast, bakery toast, and locally roasted Drumroaster coffee.  Lunch is an array of bakery bread sandwiches served hot and cold. Our specialty is an Italian grilled cheese with melted Fontina.  We make soup daily in house.  We also have a full espresso bar. Our liquor licence is in process, so we hope to offer a selection of local craft beer, cider and wine.  
Is your business just retail or will you be selling 

wholesale as well?

One thing that we have learned from our growth and expansion with La Collina is that we need to stay with one location and focus on retail.  La Collina had grown to five retail locations and was the largest artisan wholesaler on the Island at the time.  We sold to BC Ferries and Thrifty Foods, with more than 100 employees; it was too much growth in too short a period of time.  We ultimately sold our shares to our then-partners Alex Campbell, Jr. and Jeff Sims and pursued our gelato shop idea in Maui.  
What are your plans for the future of Mosi's?
Our plan is to strive for a balance of work/life, to enjoy our daughter Sofia and our family. Our plan, keep it small and focused, have great employees and pay them a living wage, and provide great baked goods and food for the community.
What's the one thing that you really want SVO readers to know about Mosi's?  
I'd like the readers to know just how much we really appreciate their support, and what a difference it can make when the community comes together to support a worthwhile business.
We plan to work with  local farmers like the Red Damsel farm down the street. They grow amazing fruit in the summer months and we can't wait to make fresh gelato with their strawberries and other fruit! Our name, Mosi Bakery, is paying homage to my grandmother on my father's side who owned a pasticceria in Viareggio, Italy in the 1920s called Mosi as well.  You can see a photo hanging in our shop.