by Roger Stonebanks, citizen journalist
Saanich mayoral candidate Richard Atwell's election campaign has organized two public "town hall meetings" for Nov. 4 and 12 – and they are only for six identified non-incumbent candidates. There are nine council incumbents who are seeking re-election. They and non-incumbent David Shebib are excluded.
The meeting notices state: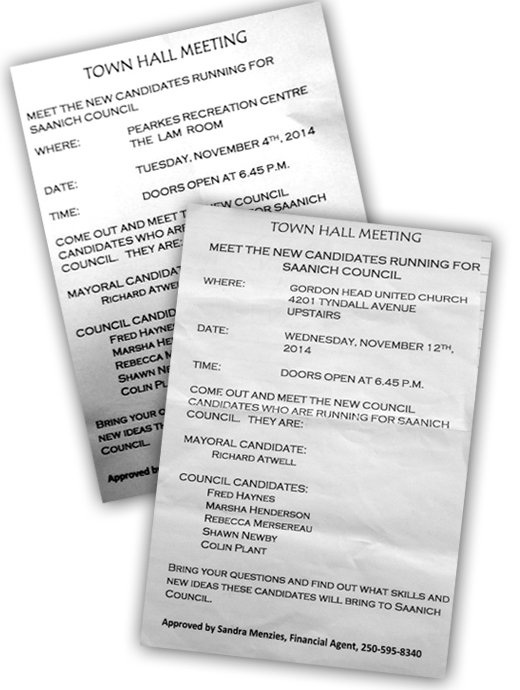 "The reason why we are holding "new" candidates town halls is to give Saanich residents an opportunity to learn about the new candidates," Atwell told SVO.
"As you are most likely aware the debates, thus far, do not give ample opportunity to allow new candidates to truly express their thoughts, views and positions on current issues and how they would like to represent the citizens of Saanich. The new candidates are diverse and bring their own unique values and positions. This is not a slate this is merely an opportunity to allow Saanich residents to get to know who the new candidates are – we are doing so by way of popular feedback from residents."
Sandra Menzies, who is listed in the notice as approving the meeting, is Atwell's financial agent. She is also treasurer of Amalgamation Yes, according to its website.
One listed non-incumbent candidate, Colin Plant, has a previous engagement booked on the 4th and has sent his regrets. He will be in attendance on the 12th.
SVO welcomes comments by all candidates for election.
 -30-