Meet Patrick Sixto – orchardist extraordinaire
Article and photos by Ed Johnson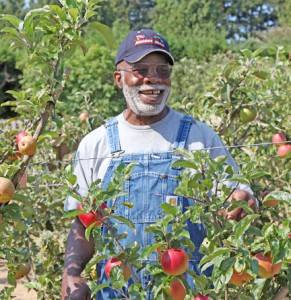 "I don't go out and party too much.  I golf and I garden and that's it." So says Patrick Sixto, retired welder in North Saanich.
"So," I smile, "if it starts with a 'G' you do it."
"Yes, but I figure I had better leave the girls alone," Patrick laughs.
"We will stick to gardening, then."
Patrick's laid back style must come from his childhood in Trinidad where gardening was taught in school and each family grew what they could to supplement their diet.  Patrick's big day came when, as a teenager, he was given his own plot at home to tend.  The staples in his garden were corn and cassava, the latter being a starchy root full of vitamins and amino acids grown in tropical and subtropical locations throughout the world.  In North America dried cassava is known as tapioca, but the root itself has a panoply of uses which makes interesting reading on Wikipedia.
"My wife and I moved here ten years ago after 23 years in Calgary, and we like it.  I just wish I had more land than a city lot to grow more fruit trees–if my wife would let me!"
Patrick is no slouch, though, when it comes to using the land that he's got.  Besides the 65 or so apple trees, he also grows his own onions, garlic, beets, corn, carrots, strawberries, asparagus, blueberries, rasp-berries, peaches, peppers, tomatoes, plums, squash – the list goes on.
The reader may wonder how 65 apple trees could fit on a city lot and still leave room for a house.  The answer lies in cordon planting. As can be seen in the accompanying video, Patrick plants his trees in an angled (oblique) cordon with dwarf trees grown at forty-five degrees, just two or three feet apart and allowed to grow no more than five feet high.  You can purchase cordons all ready to plant, or if more adventurous, learning the art of grafting rootstock can open up many new possibilities.
"A dozen cordons can easily out-produce a full grown standard apple tree, and they are much easier to pick!", he explains.  "People will be surprised at how much they can grown in a small area. I have 60 plus apple trees in an area of 50 x 100 feet that yields more than 1000 apples
per season."
The busiest time for Patrick is in the springtime, but he says he averages about three hours a day.  "You don't have to be retired to be a part-time gardener," he says. The biggest time waster in his opinion is the lawn.  Mowing, edging, raking leaves time would be better spent growing food, he feels.  "Lawn maintenance takes up more of my time than anything else."
An automated watering system with drip hoses, on the other hand, is a necessary time saver-and conservation of water is an added bonus.  Patrick learned at an early age to be frugal with resources. "It is much different in Trinidad, where we had to save all the rainwater we could in the six month rainy season to get us through the dry season.  The barrels we used had to be covered with netting to keep out the mosquitos, and an inspector visited regularly just to make sure."
"But there are lots of ways to grow food and look after ourselves, I think more and more people seem to be doing it."
This year Patrick is trying out a new system for preserving apples well into next spring.  It uses practically no energy and may even save one appliance from the landfill.  He also has a unique method of fertilizing his orchard using a common "bilaterally symmetrical invertebrate."  Do you want to learn how to keep the birds off your strawberries without netting?  All of these tips and more can be found in the video which follows.
Thanks Patrick!