A new sound in Central Saanich
Flavourite Music now at the ol' Marley Farm
by Michele Murphy, photo by Ed Johnson
Introducing Flavourite Music Retreat and B&B, situated on a 46- acre -farm and vineyard looking over the tranquil Mt Newton Valley.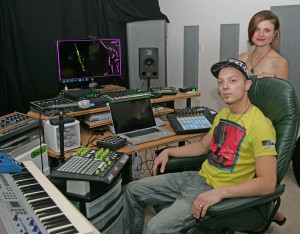 Saanichton-born and raised Lori J. Ward and her Austrian husband, Teo Orlando, are transforming the old Marley Farm into what they hope will be a world-class retreat for musicians, artists, foodies, farmers, gardeners, and travellers. Their energy, creativity and talent paired up with arguably the most awe-inspiring setting on the planet, just may be the perfect match.
A graduate of Parklands High School, Ward, 28, started in electronic music right out of high school. Studying under some of the best DJ's of the day, she became the first female DJ on the West Coast. Within two years, she had played all over North America. Ward found opportunities in New York City, London, and Berlin, the birthplace of Flavourite Music, before she settled in Austria. Ward's stage name became 'Lori, the HIFI Princess' and she was billed throughout the EU as Europe's leading lady of techno. Today, she has recorded eight of her own albums and is considered by some to be one of the top female DJs.
It was in Austria that Ward met her husband Orlando, 31. Born in Italy, the hyperpolyglot (six languages) artist made his living as a popular DJ and producer working throughout Europe. His strong background in music production quickly made him an integral part of Flavourite Music. The music label offers production, recording, design, promotion and even
education, with Orlando running the Flavourite Music School (FMS). Since Flavourite Music's start in 2007 it has over 250 tracks and 80 album releases to its credit.
The couple is excited about bringing their EU connections to Canada. Working with German pop and rock musicians, some of Europe's best house DJs and hip-hop artists, Orlando feels confident that they will attract world-class artists to the farm. "It's inspiring to be here. Working hard in the studio and then being able to sit back, looking over the hillside for a little downtime, it's rejuvenating," says Orlando.
"The music that we're getting from our people here is phenomenal," Ward explains of their client's work. "The creativity just seems to flow so easily in this incredible setting."
While music and farming seem to be a perfect fit, Ward confesses that the inspiration for farm life actually came from the financial reality of renting a studio in the Rock Bay district of downtown Victoria – as well as an office space and an apartment. She decided that all they needed was a mansion and a roommate to make this all work. When the farm with its 5,000 square- foot home came up for rent right across the street from her childhood home, Ward was sure that the universe was speaking directly to her.
Since they moved in just two months ago, already many of their plans for the farm have become realities. They have chickens and a vegetable garden bursting with produce. Their music school is booking up, their spacious guest rooms are listed on both AirBnB.com and B&B.com and their recording studio is in full- swing.
Ward is also excited about hosting events at the farm retreat. "The whole property lends itself so well to gathering and connecting with people. It's the perfect setting for celebration," she explains. The couple feel that with this spectacular location, the local harvest, the caliber of musicians that they can attract and their event management experience they will be able to offer unique top-quality music events, weddings, and fundraisers. Ward is researching local by-laws and looks forward to working with the community to make their events successful for everyone. She notes that Marley Farms hosted the sold-out FarmFolk CityFolk annual fundraiser, Feast of the Fields, in 2011.
When asked how it feels to be back in the Valley Ward answers, "When I returned to Victoria I thought my journey was over – now I am thinking that it's just beginning. I have come full circle and I'm really excited about the future. I'm looking at the valley through totally new eyes."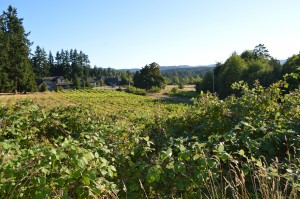 For more info on Flavourite Music go to www.flavouritemusic.ca