Backyard Gardeners on the Peninsula – Part One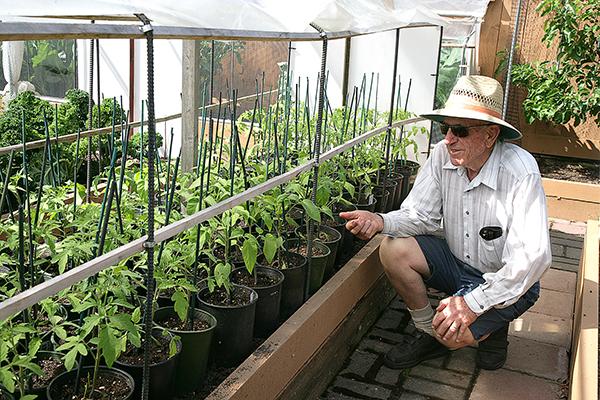 by Ed Johnson
"WOW" That was the best tasting strawberry I've ever had! Here it is only mid May in Bill and Brenda Morgan's backyard and already they have been feasting on home-grown strawberries for the past three weeks, Bill says. In fact they pretty much live year around on what they can produce in their small backyard in Brentwood Bay.
I have heard many rumours about Bill's prowess in the garden from neighbours and friends who refer to him as the 'geritol gardener'. Now, looking around me at all the raised beds with plants in profusion, it came as no surprise that Bill has been doing this for many years. "I'm an 81 year-old hayseed from Alberta. It's in my blood."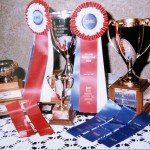 Together with his wife, Brenda, they spent 40 years in Calgary, most of the time with a similar but smaller backyard garden. "Calgary is one of the most difficult places in Canada to garden," Bill says. "Not only is there a short growing season, but the widely variable daily temperatures due to chinooks means you have to take special precautions for your plants to survive. It's all a big learning experience – all the way."
Despite the challenging environment, the Morgans not only survived, but won many awards for their successes. Bill was especially proud of his cotoneaster hedge which enclosed the front yard on three sides. Each year thirty hours were spent with hand shears giving the hedge a pristine manicured look "that only is possible doing it by hand."
If it sounds like Bill is a perfectionist, then it is no wonder his backyard is a work of art and a source of inspiration-to the eyes as well as the tongue.
"Try these youngberries from last year. They are a cross between a dewberry and a blackberry," he offers. "We freeze the youngberries, raspberries, and marionberries and have them year around." Yummm, another taste sensation that even beats my favourite, the marionberry.
Fortunately for all of us, Bill offers for sale many of the plants he grows. He also helped Evelyn Marsh set up her farm on Wallace Drive. For someone that has been growing on the peninsula since 1992, Bill can offer advice to keep your plants in tip-top shape, too.
In fact, Bill points out that this year he started over 350 tomato plants and is nearly sold out. His list of tomato plants covers two pages and includes determinate and indeterminate varieties. Of special note are Nepal, a short season variety from that country, and an heirloom russian tomato, Paul Robson.
The latter was named for the famous American singer who traveled to Russia in the 1950's. Briefly mentioned by Helen Chesnut in her gardening column, Bill searched out the one source of seed in North America and successfully germinated several dozen.
"What variety of strawberry was that anyway," I ask. "Selva," was the reply. "I think I will need some of those plants too!"
Bill can be reached at 250-652-7720.