Local Councillor Wins Speaking Contest
By J.Barlow, Citizen Journalist
The hall at St. Patrick's Church on Haultain Ave was crowded on Friday the 19th of April with over 100 Toastmasters from all over Victoria and beyond. From Sooke to Sidney they gathered to hear Victoria's six top public speakers vie for the honour of representing Victoria in the upcoming Toastmasters District 21 International Speech Contest.
To reach this point, all six contestants had to win a contest in their Club, followed by a second win when they competed against contestants from other clubs in their Area.
Representing the elite from 36 local Toastmasters Clubs were Steve Bertrand, David Best, [Central Saanich Councillor] Carl Jensen, Mike LaPlante, Shawn O'Hara, and Peter Scott.
Taking top honours was Carl Jensen, with Shawn O'Hara coming in second, and David Best claiming third place.
From here Carl advances to the District 21 International Speech Contest in Nanaimo on May 4 where he will compete against nine other contestants, representing 5350 members, from 285 clubs throughout British Columbia.
If Carl wins in Nanaimo with his speech entitled "Engagement 101", the next stop for him will be the International World Championship of Public Speaking in Cincinnati, Ohio at the 2013 Toastmasters International Convention in August. And he's got a pretty good chance – who would dare topple a fully kilted burly muscleman who throws around hammers and trees (well, actually, cabers) for fun?
Carl smiles modestly. "I was very happy to win – very honoured. I was up against a couple of very good speeches. I would also give credit to my fellow club members; they've listened to it a couple of times and still came up with feedback for me."
Carl isn't looking as far ahead as Cincinnati however. "I just take it one win at a time." Nevertheless, "It would be fantastic to go to the World Championship." If he does advance to the international level, he would be up against the world's best public speakers with a brand spanking new speech in his back pocket.
"Not a problem," laughs Carl. "That's actually the easy part. It's like giving blood – if I don't set a date it's very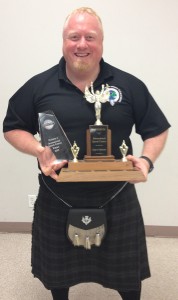 easy for other things to get in the way. By setting a date [to deliver a speech] it gives me a chance to get the creative juices flowing and come up with something that people will find interesting."
This is not the first time Carl has represented the Victoria Area in a District Contest. A highly skilled public speaker, Carl placed third in the 2009 District 21 Humorous Speech Contest.
Carl recognizes that winning contests isn't the point of being in Toastmasters. Nevertheless, there's something about it that appeals to his competitive side.
For now, Carl is just focused on Nanaimo, polishing and tweaking his winning speech even more. "It's the International. It's supposed to be inspiring. You need to be a little bit over the top, a little outrageous. When you're at bat you gotta swing for the fence. You'll either strike out or hit a home run. I'll be swinging for the fence. It'll be the best that I've got."
Of course, if Carl should win top honours at the International in August, he'll have to hang up his microphone – no more competing through Toastmasters. "That's okay," says Carl. "I can live with that. It'll just be one more thing to cross off my bucket list. There are other ways to challenge myself."
If you want to see Carl in action in Nanaimo a few tickets are still available. For information about Toastmasters or the contest, or to find a club near you, visit the District 21 website at www.d21toastmasters.org
And if you don't make it to Nanaimo, you can see Carl at the Victoria Highland Games and Celtic Festival.
The nine day tartan extravaganza kicks off its 150th anniversary with the May 11 Tartan Parade in downtown Victoria. Events throughout the week lead up to the highlight, the games themselves and the Celtic festival paying homage to Scottish music, culture, and arts, May 18 and 19 at Topaz Park. Check it out. You'll be in good company. His Royal Highness, Prince Andrew, The Duke of York will be in attendance as the Chief of The Games. Carl is "heavily" involved in the Heavy Events competition. Watch for him; he'll be the guy in the kilt.
Well, one of them anyway.
Visit www.victoriahighlandgames.com for more information.